Download the app ( Play Store) :
Frist 10 trade leads free (Download & Open Your Business Box) *
Go to Play Store
Hydraulic Cylinders
To List Here:
Just register and open busienss box
Enjoy Enquiry like never before
Hydraulic Cylinders
Offline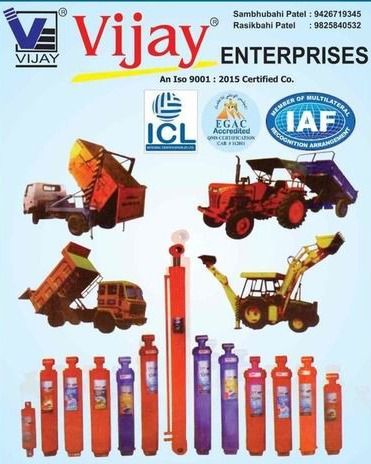 Offline
Offline

Offline
Offline
India
Hydraulic Cylinders
Combining hydraulic cylinders with electronics for enhanced functionality, increased accuracy, improved and controlled performance in various applications is expected to be a key factor for the market growth. Hydraulic cylinders demand in India by the year 2024-25 is expected to increase by 12-15%. The sector will grow as high as 25% in years to come. The hydraulic cylinder industry growth depends upon mobile hydraulic equipment consisting of backhoe loaders, excavators, mobile cranes, compaction equipment, wheel loaders, forklifts, and agricultural equipment. Hydraulic cylinders are used in industries such as manufacturing, construction, mining, agriculture, aerospace, and defense. The investment for industrial equipment is expected to reach approximately USD 90 billion, comprising nearly 3% hydraulic cylinders market growth. As India is continuously expanding in these sectors there is a great demand for hydraulic cylinders and if you are somehow connected with this industry you have a golden opportunity to join the EnquiryGate site which is yellow pages/directory to come in direct contact with the people connected with this industry. , in.enquirygate.com. Register with EnquiryGate site, create your web page with all details relating to venture, terms and conditions, contact details, products and services, rate list and modus of Operandi. If you already have an account with EnquiryGate, start regular updates on the portal with an unlimited number of free products and services on the webpage so that you are easily found by the people who want to contact you. Also, you may contact people for your requirement of Hydraulic cylinders. EnquiryGate site will help you gain business leads, enquiries and queries online business with all materials related to handling, buying selling, reselling, repairing, supplying, importing, direct sales, exporting, engineer, manufacturers of pneumatics, showroom, outlets, shops, spare parts of equipments like cranes, stackers and electronic overhead travelling cranes and lot more. Get in direct contact with the persons involved in the industry of hydraulic cylinders via email, SMS or free call me service of the site to create business leads using the right keywords on the portal which will help you zero on to the right associates.
Information